Cartography is a hobby of mine (sometimes more like an obsession

) and I thought I would post a few maps that I've created that I think could work in a M&M game. First off, here are some older maps that I've done.
Inspired by the Temple of Apollo at Didyma, near Miletos (click to enlarge):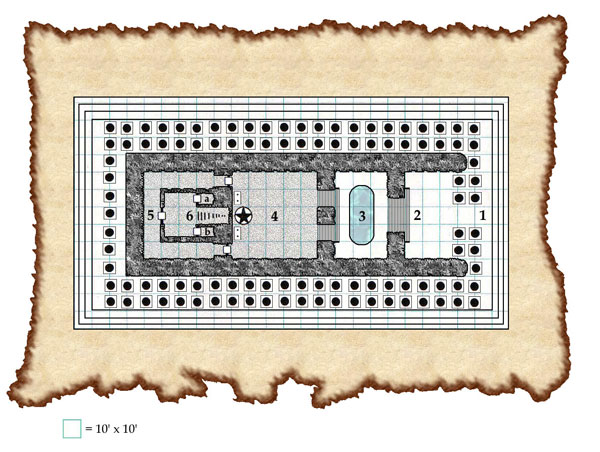 Another Temple (click to enlarge):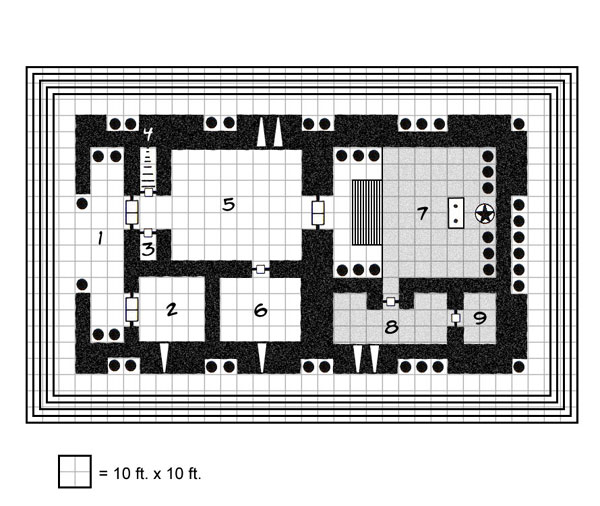 Rooms 2, 5, 6 & 8 have narrow slits high in the walls for additional light and air flow. The grey area of Rooms 7 - 9 are of a lower elevation than the rest of the temple.
More to follow.
Cheers,
Tim
These are great Tim! Would love to see more!



Posts

: 3


Join date

: 2008-11-05


Location

: The Great White North



These are really great work : when will someone write a scenario around one of them ?

Admin




Posts

: 48


Join date

: 2008-05-14



I would love to write an adventure at some point but I'm still getting a hang of the rules. I need to run a few sessions before I start designing adventures for publishing (there are too many areas I'm still a bit weak on). I do have some ideas though. Speaking of one of my ideas...
Here is the island map that I drew for my M&M idea with noted areas marked (click to enlarge).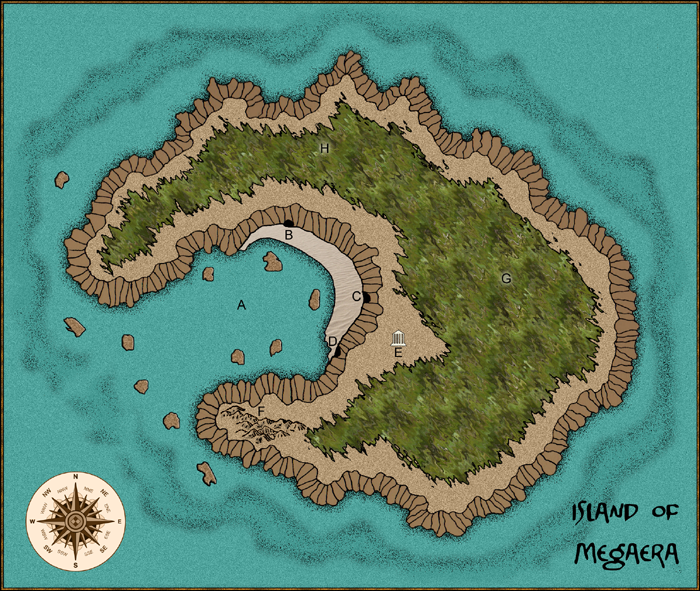 A. Lagoon (Attack Kelp lair?)
B. Cave Entrance #1
C. Cave Entrance #2
D. Cave Entrance #3
E. Small Temple (dedicated to Zeus?)
F. Rock Outcrop (Birds of Ares nests?)
G. Hidden Entrance to Cave #11 (see below)
H. Monster Lair (manticore?)
Next is a map that details the island's caves (click to enlarge). Cavern #4 has access to the surrounding sea (via an underground passage not visible at sea level). Cavern #6 has a pit that leads deeper into the earth.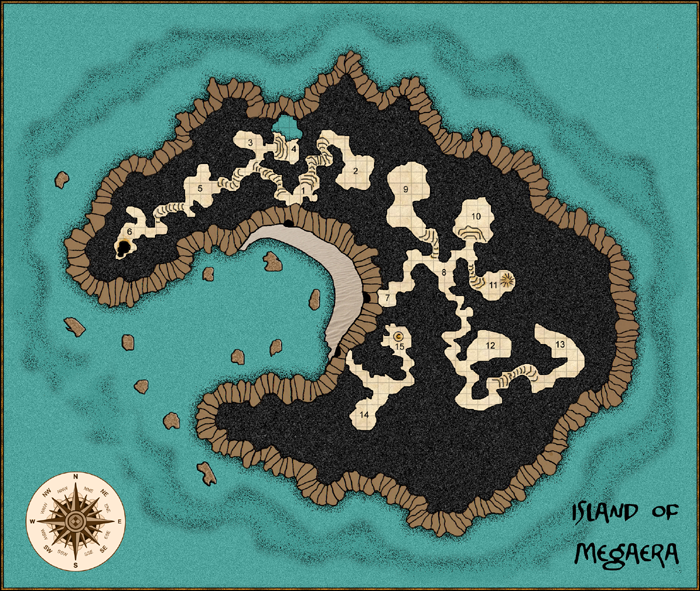 Cheers,
Tim
I realize you may already be using the Island of Megara map for your own M&M material, but I just had a look at it and realized it would be perfect for my
"Game of the Gods"
write up, which could presumably be published on the M&M website. This adventure involves obtaining the scattered "Chess Pieces of the Gods" from different monster groups on an isle consecrated to Hera, in an effort to battle an evil sorcerer with the other half of the set. The cavern systems seems perfect for the different monster groups (including Tragos, Scorpion Men, Cyclopes, a Gorgon, Empusae, and a maze full of Minotaurs), and it even includes a little temple (two of the pieces are located in a Temple of Hera, and the characters must convince the Priestess to give them up or steal from the temple and lose 1d6 luck). So... can I please use your awesome map?



Posts

: 1


Join date

: 2010-01-08





Similar topics
---
Permissions in this forum:
You
cannot
reply to topics in this forum